Thanks for checking out the Anchorage Messianic Fellowship site! We hope this site will pique your interest and answer any questions you have about us! We will notify you of any schedule changes, upcoming events and important facts on this page as well.
Who We Are
We are a small home fellowship group comprised of Messianic believers in Anchorage. Although we are a small group, we function as a congregation on many levels. We meet every Shabbat to sing, pray, read the Torah and fellowship. We look forward to worshipping with you!
Joining Us
If you are interested in worshipping with us, please contact us! We'd love to have you!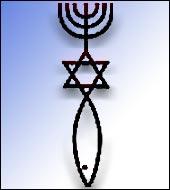 Check out our AMF Blog for articles designed to help you grow, learn and believe. Our blog will also inform you of upcoming events, schedule changes, news and prayer requests. Feel free to post your own thoughts too!